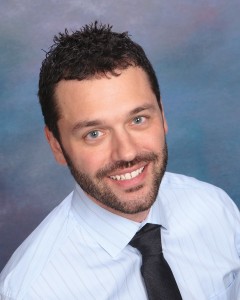 We are thrilled to welcome Dr. Ryan Colosi to Pediatric Dentistry of South Charlotte.  He will be joining us on September 15, so we would like to let you know a bit about him.
Dr. Ryan grew up just outside of Buffalo, NY where his dad has been a general dentist for over 30 years. During his high school days Dr. Ryan decided to pursue the same career and ventured off to Hillsdale College in Michigan to begin his training. After earning a BS in Biology in 2003 he was accepted into the University at Buffalo School of Dental Medicine. While at UB, Dr. Ryan earned awards in both Pediatric and Hospital Dentistry while completing a minor in Pediatric Dentistry. Following the advice of his mentors, he decided to specialize in Pediatric Dentistry. That decision lead to Dr. Ryan matching with his top program of choice: North Shore-Long Island Jewish's Schneider Children's Hospital (recently renamed Cohen Children's Medical Center). Consistently ranked as one of the nation's top Children's Hospitals, LIJ provided Dr. Ryan the opportunity to treat a wide array of patients, ranging from children with rare congenital syndromes to adolescents with prominent craniofacial anomalies. This experience gave him the confidence and knowledge to succeed in residency and beyond. In 2008, Dr. Ryan was named Chief Resident for Long Island Jewish's Department of Dental Medicine and was awarded Resident of the Year in 2009.
Following completion of his Pediatric Dental residency, Dr. Ryan spent 3 years with the US Navy including tours with 3rd Dental Battalion in Okinawa, Japan and Walter Reed National Military Medical Center in Bethesda, MD. While in Okinawa, he was deployed onboard the USNS Mercy (T-AH 19) as a part of Pacific Partnership 2010, a global humanitarian aid effort throughout Southeast Asia. Dr. Ryan was at sea for nearly 4 months and participated in an array of medical/dental missions. This experience allowed him to work alongside doctors from Australia, Singapore, Japan, New Zealand, Great Britain and Canada, while serving the people of Vietnam, Cambodia, Indonesia and Timor-Leste.
Dr. Ryan joins us after having spent his post Navy years practicing in both Buffalo, NY and Lexington, SC. Having a number of friends and family in the Charlotte area (along with a number of Buffalo-themed restaurants) is what has drawn him to make Charlotte home. He is board-certified through the American Board of Pediatric Dentistry and is a member of the American Academy of Pediatric Dentistry, ABPD College of Diplomates and the American Dental Association.  He is an avid scuba diver and spearfisher, enjoys camping, is a die-hard Buffalo Bills fan and has a deep passion for doing missions work both locally and abroad.
Dr. Ryan will be in the office on alternating Mondays and Thursdays, and will be available for appointments every Friday from 8:00am to 4:00pm.  Let us know if you would like to schedule an appointment during our new Friday hours.
We think you will enjoy getting to know Dr. Ryan and welcoming him to our Pediatric Dentistry of South Charlotte family.
Society accepts not all and not everyone can understand it and forgive Cialis cost . Take the right in hand and solve the problems as soon as such appear. It isn't necessary to be afraid and think that anything at you it won't turn out. Everything works as we want it. Cost of cialis is one their mistakes of the person and you should not be afraid and the fear will leave with itself. So arrived for a long time and such way worked. Books help us to go on life.